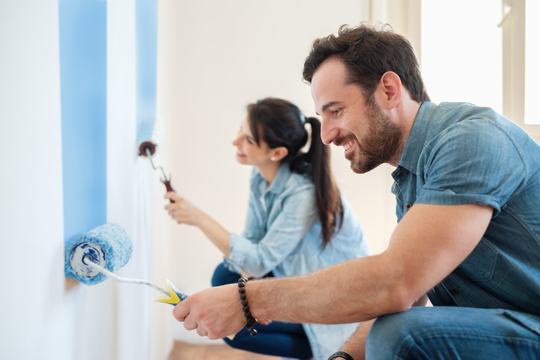 If you've been thinking about tackling some home improvement projects this summer, there's no better time. Summer will be over before you know it and these all-too-brief warmer months are ideal for outdoor projects and projects requiring a well-ventilated work space. If you let these nice days pass by, colder temperatures at the end of the season could hamper your efforts or even negatively affect the quality of the improvements.

Window Replacement
Old, drafty windows are a major cause of heat loss during the winter months. They result in higher heating costs and lower levels of indoor comfort. If last year's annual autumn ritual of caulking around the windows didn't do much to stop the chill from seeping through, it's probably time for a window replacement.
Revamping the Exterior
If your home's siding is starting to flake and peel just a few years after a paint job, the siding may be past the point where a mere cover-up will suffice. Old siding is notorious for developing rot, mold, and mildew over time, making it difficult for the siding to hold paint. Worse yet, loose or missing boards reduce your home's weather resistance and contribute to higher heating and cooling costs. Nothing increases curb appeal quite like new siding. Fortunately, as with most exterior updates, the reliably warm weather of summer provides the best time to re-side.
Refacing Cabinets
If you're tired of your worn-out kitchen but like the configuration of cabinets, refacing might be the way to go. Cabinet refacing involves replacing cabinet doors and drawer fronts and installing matching veneer on the face of the cabinet bases. This makes your kitchen look fresh and new at a fraction of what it would have cost to completely replace the cabinets. Scheduling these major kitchen updates in the summer allows for the project to be finished before the holiday season begins!
New Countertops
Have you considered installing new countertops? It is smart to schedule this well before the first frost, since installation professionals must haul the old countertop out of your home and carry in the new countertop materials. It's safe to assume that icy sidewalks and frigid temperatures are not ideal for this major indoor-outdoor foot traffic.
Roof Replacement
The warmer months are the best time for a roofing project, because new shingles require heat in order to form a weathertight seal. In fact, winter conditions and reroofing simply don't mix. To prevent overlooked damages rood areas, have shingles installed directly onto the roof deck only and don't allow roof overlays, which involves adding a layer of shingles over an existing layer. Remember to have any rot damaged repaired before installing new shingles!
Before taking on the risks of home improvements, be sure to protect your home and your belongings with Arizona Home Insurance. If you're looking to improve your home, the last thing you want is a costly claim to get in the way of your efforts!
About Integra Insurance Group
Integra Insurance Group is one of Arizona's leading independent insurance agencies. Located in Peoria, Integra has provided reliable insurance services to families and businesses for many years. We work tirelessly to provide our clients with the best insurance coverage at competitive rates, all with personalized customer service. To learn more about what we can do for you, give us a call today at (623) 322-5955.