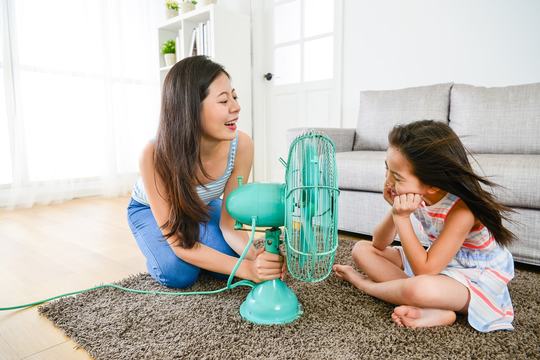 In Phoenix, Arizona, the brutal summer temps are unavoidable, causing home energy bills to rise during the summer months due to heavy air conditioning usage. So how do you keep your home cool during the summer without raising your energy bills? Fortunately, there are efficient ways to stay comfortable and worry-free in your home this summer.
Keep the Air Circulating
A wind-chill effect can make a significant impact in the feel on a room. A fan doesn't actually cool a room; it makes it more comfortable to be in. There are many different types of fans out there on the market that will pleasantly surprise you on just how well they work.
We also recommend using ceiling fans to your advantage. Make sure you have your ceiling fan running counter-clockwise in the summer to help circulate air downward, which will keep you cool.
Perform Cooling System Maintenance
Dirty AC filters block airflow and make units work harder to cool your home. Clean and/or replace filters once a month to lower your AC's energy consumption. If you have a central cooling system, be sure that floor registers aren't blocked (whether that be with dust or furniture).
A unit's evaporator and condenser coils (located outside) should also be clear of dirt and other debris, such as fallen leaves. Clip foliage so that it always remains at least 2 feet from the condenser. In addition to increasing your system's efficiency, this will also make your system much safer and reduce the risk of fires or other accidents.
Avoid Heat-Generating Activities
Avoid activities that generate a lot of heat, such as cooking on the stove top and using the dishwasher or clothes dryer. Grill food outside, wash dishes by hand and let them air-dry, and hang clothes on a clothesline.
If the above options aren't realistic for you, save these activities until after dark when temperatures have dropped. Keep in mind that computers, stereos and TVs are also big heat-generators.
Block Out the Heat
Keep the blinds closed during the day as much as possible, especially on west- and south-facing windows. Much of the unwanted heat in your home is coming from your windows where heat enters but cannot escape.
The lighter the hue of the blind or shade, the more they'll deflect the sun's scorching rays. Hang shades as close to window panes as possible, as this enables them to also block outdoor heat from radiating inside. Consider using insulated and/or reflective shades for extra heat resistance.
The summertime comes with its own set of liabilities. We want to make sure that your summer is filled with fun, not with costly claims. Make sure your Homeowners Insurance policy is up-to-date and ready to cover anything that may happen during the coming months.
About Integra Insurance Group
Integra Insurance Group is one of Arizona's leading independent insurance agencies. Located in Peoria, Integra has provided reliable insurance services to families and businesses for many years. We work tirelessly to provide our clients with the best insurance coverage at competitive rates, all with personalized customer service. To learn more about what we can do for you, give us a call today at (623) 322-5955.